Fan Fiction Contest Edit
2020 Destroyermen Fan Association's Fan Fiction Contest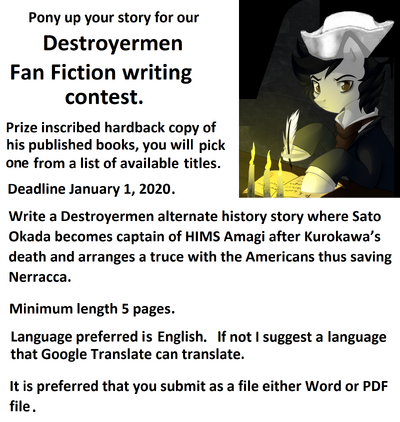 Save as a file on the Destroyermen Fan Association's Fan Fiction Page:
https://www.facebook.com/groups/1076206972451470/ BE SURE TO NOTE IT IS A CONTEST ENTRY AND HAS YOUR NAME ON IT!
Deadline for entries January 1, 2020
For those not on Facebook message me here with your E-Mail address and I'll send you mine so you can enter. Link to my profile:
https://destroyermen.fandom.com/wiki/User:Pokermind
WARNING DO NOT SEND FAN FICTION TO TAYLOR ANDERSON HE WILL NOT READ IT OR FORWARD IT!
Community content is available under
CC-BY-SA
unless otherwise noted.