Riding Tides is the fifth book in the Destroyermen series.
Eastern Sea
Edit
With Walker repaired Matt steams off with Jenks to chase Ajax the ship which Billingsy abducted The Princess and others on. as they steam they finaly catch up to three (3) Company Ships and a firefight ensues with Achillies getting mauled up when Jenks takes her into a close range broadsiding 
East Africa
Edit
Yap Island
Edit
Raan-goon Mission
Edit
Jaava Sea
Edit
Santa Catalina MissionEdit
Talaud Island
Edit
Respite Island
Edit
Once Walker Reaches Respite they exchange Plesantries and the Govener there, a man named Radcliff, tells them that they might cecede from the Empire if this continues
Home Islands
Edit
There is trouble from the start since Matt Puts in at the navel dock in Scapa Flow whether its a Marine Captain With an escort or Un-holy Dominion Blood Cardinal named Don Hernan. Matt gets chalenged to a duel, Walker Participates in a major Navel Surface action without her skipper and a musketry duel erupts in the Scapa Flow Dueling grounds between Chack-Sab-At's marine's and Dominion Blood Drinkers or Swords of the Pope which Juan finds very offensive. afterwords Matt and Grey go to the Dom Embasy and confront the prime proprioter Harris Reed  
Characters
Edit
Key Characters
Edit
Other Characters
Edit
Main article: Rising Tides/Characters
Locations
Edit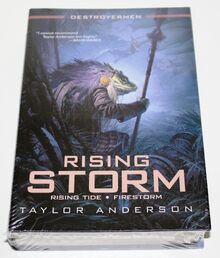 This book and Firestorm are in the Combination book Rising Storm.
Community content is available under
CC-BY-SA
unless otherwise noted.