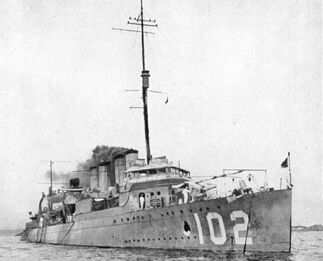 Mahan is one of two allied destroyers that makes it through the squall. Mahan and her sister ship USS Walker join the escort of the fleeing British HMS Exeter accompanied by the HMS Encounter and USS Pope. Set upon by converging Imperial Japanese naval forces, Exeter is critically damaged and subsequently sunk, along with Encounter and Pope.
Mahan and Walker attempt a break for a squall line in order to use its cover to hide a course change and break contact with the IJN. They are intercepted just short of "The Squall" by the IJN Amagi and her consort destroyer. The two American destroyers sink the smaller of the two vessels on a fluke, and through maneuver inflict severe damage on the Amagi.
In the battle, Mahan's captain is killed, along with the majority of her command crew, by a direct strike on the bridge deck. Once the pair had sailed clear of The Squall and rejoined company, Lieutenant Jim Ellis, XO of Walker, assumed command.
Key Events
Edit
Sank in her attack on INJ Amagi by burying her bow in Amagi's aide and setting off a number of depth charges, losing her bow.
Re-floated and repaired with a shorter bow she looses her bow again due to an errant torpedo. Rescue effort allowed Kurokawa to escape.
USS Mahan's Original Timeline
Edit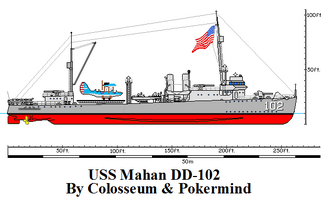 The USS Mahan was commissioned into the US Navy October 24, 1918 and served in the Caribbean Sea and Atlantic Ocean. In May 1919 she served as one of the guide ships from the Navy's transatlantic flights of the flying boats NC-1, NC-3, and NC-4. On June 21, 1919 the Navy began to convert her to a light minesweeper, to which she was officially reclassified on July 17, 1919 and re-designated the DM-7. For the following ten years she operated in the Atlantic, Caribbean, and Panama Canal Zone (except for a training cruise to Pearl Harbor in 1925). She was decommissioned from the Navy on May 1, 1930 and sold for scrap in January 1931.
Author Taylor Anderson gives his reason for made up ships thus on his Discussion Blog http://www.taylorandersonauthor.com/blog/discussions/ On January 06, 2015 he wrote :
"... I would personally prefer to "add" a destroyer to the list of those involved for the same reason that I have always used ships with no wartime record: Any ship actually there would have had an actual CREW of real people, and I would–personally–feel uncomfortable with shanghaiing their lives, so to speak. I've come close a time or two, in a manner of speaking, with Santa Catalina (Blackhawk) and Amerika, both of which DID have "post divergence" records, but the way I used them, they are NOT the same ship. I may even IMPLY that some . . . mysterious ship could be a well-known one, leaving it to the imagination of the reader to decide, but that's as far as I'll go. Even Surcouf is an analog. They CALL it Surcouf, because that's what she looked like, but . . . wherever she came from, either that was not her name, or she was one of the other planned vessels of the same design. This is a rule I've always tried to keep, and I mean to continue doing so in this series. Maybe it's because I grew up with so many veterans of WW2 and the inter-war years. I have known too many of them to change their service records.
Community content is available under
CC-BY-SA
unless otherwise noted.